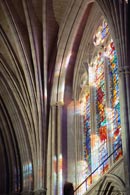 We started first in a rented apartment at #16 Odunaika st; Ilasamaja, Lagos, and in few months as the Lord increased the church and added to the church as many as could be save, the apartment could no longer contain the worshipers, so as the Lord provide we bought ten (10) plots of land (@ #10 Odofin Park Estate, Oshodi-Apapa Expressway, by Ijesha Bus-stop, Lagos, were we presently worship) and started building and by august 2003 we parked in with about twenty five (25000) worshipers.
And the lord walking with us, confirming his word with signs following, sinners been saved, the sick been healed, the captives been loosed and the poor are made rich, through the undiruted word of God from his servant pastor Lazarus Muochukwuka, the Lord added to the church weekly in thousands and we grew to about thirty thousand (30,000) worshipers in a single service, and the church could no longer contain us and the lord miraculously provided us another sixty (60) plots of land beside our church and we bought the land in the month of october 2003, which we are currently developing.
We invite you to join the chosen family today and be a part of what God is doing.